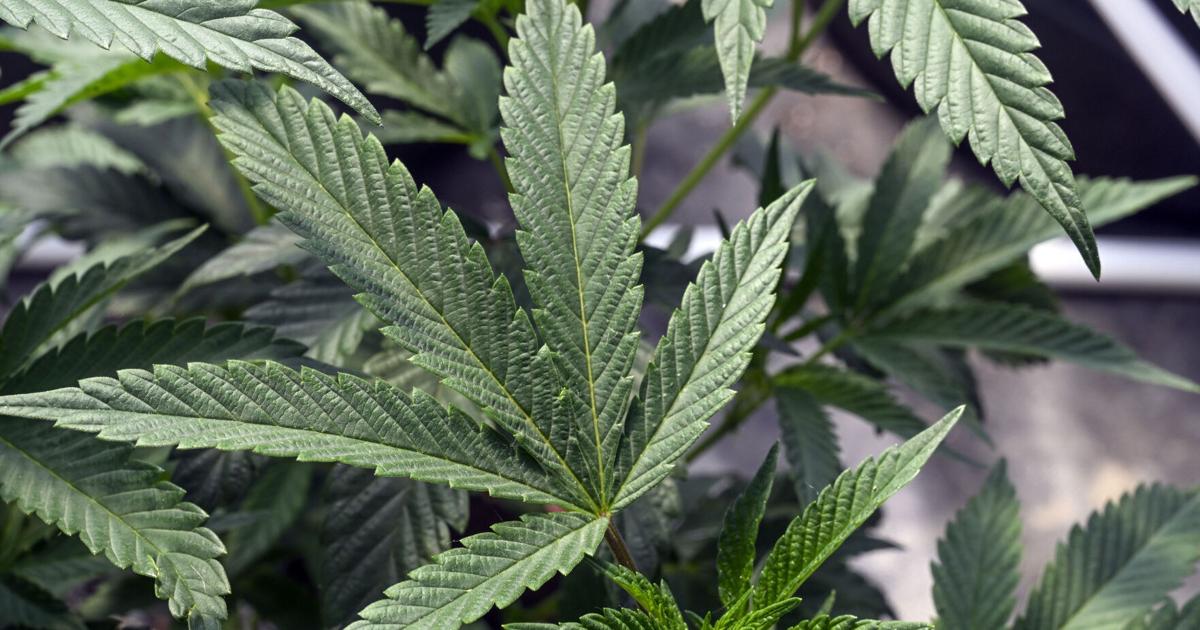 It seems wherever you go, it is becoming hard to avoid the smell of marijuana, according to one state lawmaker.
State Sen. George Borrello, R-Sunset Bay, has introduced legislation to prohibit marijuana use in public unless a municipality allows it, a measure he says would make New York more like other states that have legalized recreational adult-use cannabis.
"We do not allow people to walk down the street chugging a bottle of vodka and the intoxication that results," Borrello said. "We need the same type of restraints on marijuana."
During a recent interview on WBEN-AM in Buffalo, Borrello made a lot of claims about New York's marijuana law and how it compares to those in other states.
We fact-checked four of them:
"Out of the 20 states that have legalized recreational marijuana," New York "is one of only three that has not banned public consumption."
Twenty-three states and the District of Columbia have legalized recreational marijuana for adults 21 and older, and the overwhelming majority of them have explicitly banned public consumption.
So Borrello is accurate on this claim. Four states, including New York, have not banned public consumption. While there are some public places in New York where it is illegal to consume marijuana, the state's law does not have a blanket ban on public consumption like those in many other states.
It is more permissive than other states, "as well it should be," Hoffman said.
Marijuana is more potent than it used to be, has more THC. It used to be, 30 years ago, 3 or 4% THC, now marijuana is 60, 70, 80% THC.
Borrello is right. Marijuana is indeed more potent than it used to be, with the highest concentrations of THC, the main psychoactive ingredient, found in concentrated cannabis products. PolitiFact fact-checked a claim that marijuana is stronger than it used to be, and found it to be True. The potency of marijuana has increased from 4% THC in 1995 to 17% in 2017, and at one dispensary in California, a strain of cannabis that could be smoked had 41% THC, according to reporting by KFF Health News, a nonprofit news organization.
But the products with the highest concentrations of THC aren't smoked in a joint. Other concentrated marijuana products, such as hash oil or wax, have concentrations of THC of more than 90%.
There are "zero restrictions" on recreational marijuana consumption.
Borrello was asked during the interview if there are any restrictions when it comes to recreational marijuana consumption?
"None whatsoever, let me be very clear about that," he said. "Marijuana is more consumed not by smoking but by edibles and vaping than by smoking. There are zero restrictions, zero restrictions. The only restriction that is in place is you can't smoke it where smoking is not allowed, but that is a very difficult thing to enforce as well."
In New York, marijuana cannot be consumed in motor vehicles, in private businesses, including cigar or hookah bars, or in any place where smoking cigarettes is prohibited, such as restaurant patios and public parks. The law allows for cannabis lounges, but they have not yet been licensed. As it is in any state, smoking on federal land is prohibited.
When asked about this claim, Borrello said that while consumption is technically not permitted in automobiles and private businesses, practically speaking, it's impossible to stop people from consuming marijuana edibles and gummies anywhere they want.
Even smoking in cars is more prevalent since legalization, he said, citing reporting in the New York Times.
"People are not obeying the law and the ban is rarely being enforced," he said.
"New York State government has said: 'Be irresponsible. Get stoned when you drive, get stoned at work, get stoned in public, it's fine.' "
We recognize that in the world of political rhetoric, there is room for hyperbole. We don't check opinions or obvious exaggerations used for emphasis.
But it should be noted this claim is not accurate. New York laws explicitly prohibit consuming marijuana in vehicles – moving or parked. It is also illegal to drive under the influence of cannabis.
Employers' ability to take disciplinary action against workers who get high before or during work hours vary with the circumstance. Employers can take action against employees who use cannabis during work hours, including meal times, breaks and on-call time. They can also take action against employees who use an employer's property to consume marijuana, and can prohibit employees from bringing marijuana to work. Under state law, employers can also take action if the employee is impaired because of marijuana use while they are working, even if the employer doesn't have a policy prohibiting using marijuana. Impairment is a decrease in a worker's job performance or interference with an employer's obligation to provide a safe and healthy workplace. However, employers cannot take action if they only observe signs of use, or smell it. The worker has to actually be impaired for disciplinary action to be taken. A drug test is not sufficient proof that a worker is impaired.
Borello said that detecting when employees use edibles and other forms of marijuana is difficult.
"My point with that statement was that – in spite of the 'prohibitions' – the practical effect in New York's poorly designed marijuana law has been to unleash a veritable 'free for all' mentality when it comes to pot use," he said.
#lee-rev-content { margin:0 -5px; }
#lee-rev-content h3 {
font-family: inherit!important;
font-weight: 700!important;
border-left: 8px solid var(–lee-blox-link-color);
text-indent: 7px;
font-size: 24px!important;
line-height: 24px;
}
#lee-rev-content .rc-provider {
font-family: inherit!important;
}
#lee-rev-content h4 {
line-height: 24px!important;
font-family: "serif-ds",Times,"Times New Roman",serif!important;
margin-top: 10px!important;
}
@media (max-width: 991px) {
#lee-rev-content h3 {
font-size: 18px!important;
line-height: 18px;
}
}
#pu-email-form-buffalo-politics-article {
clear: both;
background-color: #fff;
color: #222;
background-position: bottom;
background-repeat: no-repeat;
padding: 15px 0 20px;
margin-bottom: 40px;
border-top: 4px solid rgba(0,0,0,.8);
border-bottom: 1px solid rgba(0,0,0,.2);
}
#pu-email-form-buffalo-politics-article,
#pu-email-form-buffalo-politics-article p {
font-family: -apple-system, BlinkMacSystemFont, "Segoe UI", Helvetica, Arial, sans-serif, "Apple Color Emoji", "Segoe UI Emoji", "Segoe UI Symbol";
}
#pu-email-form-buffalo-politics-article h2 {
font-size: 24px;
margin: 15px 0 5px 0;
font-family: "serif-ds", Times, "Times New Roman", serif;
}
#pu-email-form-buffalo-politics-article .lead {
margin-bottom: 5px;
}
#pu-email-form-buffalo-politics-article .email-desc {
font-size: 16px;
line-height: 20px;
margin-bottom: 5px;
opacity: 0.7;
}
#pu-email-form-buffalo-politics-article form {
padding: 10px 30px 5px 30px;
}
#pu-email-form-buffalo-politics-article .disclaimer {
opacity: 0.5;
margin-bottom: 0;
line-height: 100%;
}
#pu-email-form-buffalo-politics-article .disclaimer a {
color: #222;
text-decoration: underline;
}
#pu-email-form-buffalo-politics-article .email-hammer {
border-bottom: 3px solid #222;
opacity: .5;
display: inline-block;
padding: 0 10px 5px 10px;
margin-bottom: -5px;
font-size: 16px;
}
@media (max-width: 991px) {
#pu-email-form-buffalo-politics-article form {
padding: 10px 0 5px 0;
}
}
.grecaptcha-badge { visibility: hidden; }